V1 Antiviral Disinfectant, 750ML - Ready to Use cleaning chemical
Super Antiviral Disinfectant's powerful formulation kills a range of pathogenic viruses in under 5 minutes. The safe formula is suitable for use on most non-porous surfaces and when used as directed, leaves treated surfaces safe for human contact.
Independently tested 2020 to European Standard BS EN 14476
Effective according to BS EN 14476 against enveloped viruses which       includes coronaviruses
Kills 99.99% of germs and viruses
Cleans and disinfects
Non bleach formula
Non tainting
General purpose sanitiser
Tested to BS EN 14476, BS EN 1276 & BS EN 13697
How To Use
This trigger spray bottle of ready-to-use chemical can be used without the need to dilute. The chemical is safe for food preparation areas.
COVID-19 & Fogging Machines
This product has been proven effective against COVID-19 at a surface contact time of 5 minutes. For maximum effectiveness use with a fogging machine to ensure all surfaces are reached.
SKU: CHE1218002770029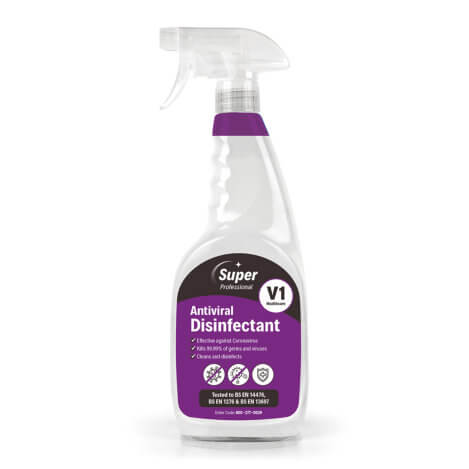 Interested? Send us a
Message